Threesomes do not have to be complicated. Bringing in a third person into the boudoir can be exciting, given the right circumstances and the right person. A recent study shows that 20% of women have had a Ménage A Trois.
This has become a popular way for couples to spice up their sex lives. For a good reason too. 
Threesomes can awaken new sensations and new sexcapades for couples. When you have been together for so long, and the spark is no longer there, separation is not the answer. Maybe a threesome is!
Sometimes a little adventure can go a long way. A one-time threesome adventure can cure that relationship boredom. Maybe it can be an occasional indulgence. Who knows?
When you have decided to give it a try, get a professional. Don't ask a random stranger at a bar.  That is too risky. At Le Penthouse Suite Gold Coast brothel, we have sensual escorts who know exactly what to do.
There will be no awkward moments when you have a professional leading you as you indulge.
Why Le Penthouse Premium Escorts?
Our girls are pros at this! Threesomes can be intimidating when you don't know what to do or how to start it. Our escorts will be there to arouse, tempt, and set the mood while guiding you and your spouse into the activity.
The secret to a successful threesome is to make sure no one feels left out. This is vital, so everyone feels comfortable and satisfied.
With three people in the room, how do you know how much attention you give to whom? Which one is doing what? These are questions you need not worry about. The escort will take care of all that.
Think of having a facilitator much like the ones on corporate training, only this time; you get a naked, naughty one. Just relax, go with the flow, and enjoy the ride.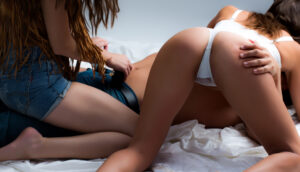 We Have The Girls And The Place
When you are new to this adventure, doing it in a neutral, private place can help appease any apprehensions.
We have a brothel service at Le Penthouse Suite, where our luxurious rooms boast stunning ocean views and big ensuite bathrooms with bathtubs big enough for three. Our rooms are designed to get you in the mood for the best night of your lives.
Using our brothel services does not just provide you with the perfect girl and ideal accommodation; it will also save you the stress of planning and keeping things a secret too – no need to worry about nosy neighbours or the kids finding out and getting in the way.
When you have kids at home and neighbours who are always looking out the window, it will be hard to get in the mood and enjoy the whole experience. It can even be a disaster and a total waste of time and money.
So head over to Le Penthouse Suites if a threesome is on your agenda. We are located at 15 Wharf Street, Tweed Heads, NSW.  We also have a discreet back entrance at 1 Navigation lane, Tweed Heads. We are four minutes away from the airport. You can check our online schedule or call us at 07 5523 7747 for inquiries and bookings. 
With us, you can come in at any time at your convenience, pick the girl ahead, and go right on home after. No fuss, no hassle. Wham! Bam! Thank you, ma'am!