You will find that from the moment you enter through our gates, the variety of girls we provide to you will leave you drooling.
All of our girls are high-end professionals, and we are confident that aside from their very pretty glowing faces, they have more to offer – companionship. The truth is it is difficult to decide who between two escorts is better.
People tend to hire escorts in Gold Coast for different reasons. You find that while other people hire escorts for companionship – like someone who can accompany you to a corporate function or a meeting, others hire them to have their sexual desires fulfilled while others hire them as tour guides, and some will hire them to spend time with.
Now when you arrive at Le Penthouse Suite Gold Coast Brothel and you want to choose one of our girls, what traits should you look out for to get a high-quality escort?
Elegant Personality And Appearance
Most of our escorts are equally remarkable and striking. The appearance and personalities of these gorgeous babes are pleasing which will leave you wonderstruck when you meet them. To choose the best, go for the eye-catching one in terms of appearance.
The sex appeal of a gorgeous babe is always reflected by her appearance and body traits. Our girls are beautifully groomed you will find it hard to resist them and find it hard to choose.
Good Mannerisms
It is imperative to have an escort with good manners. Ethical behaviour and mannerisms will impress you as a client. Such manners include an attitude with some warmth and a polished demeanour when dealing with their client.
When you choose a brunette who has good manners, as a client, you will be secure no matter where you go with her or what you do. 
Overall Look
At the end of the day escorting is still based on modelling. Therefore, you will always find that we emphasise class, beauty and a fresh face. A model with the best features and a flawless complexion is what you should go for.
Most clients associate a skin-tight black dress as the chosen outfit for an escort, but this isn't always the case. However, if you do find an escort in a skin-tight black dress, there is no reason you shouldn't go for them.
On the other hand, an escort without well-kept hair or one who has tattoos is a big no-no. However, although some cosmetic surgery is necessary, overdone make-up is not a recommendation.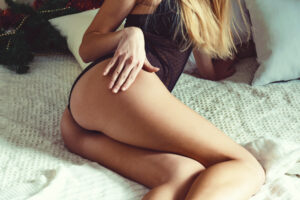 Style
Style is essential in the current social climate. In the modern world, it is tempting to show one's flesh and shape which is not really acceptable in high society.
As a client, you should go for an elite escort, a girl who understands that she is protecting her image by dressing in a classic and modest style. The style should be minimal and not too showy.
Good Communication
High-class escorts will always have excellent communication skills. Communication is vital in any industry let alone escorting. As a client, it is recommended that you to go for an escort who has good communication skills.
At any level, a top-notch escort will be able to efficiently communicate. At times as a client, you might have personal or professional issues that you might be wanting to share with someone which is why a high-quality escort with excellent communication skills fits the bill.
Personable
Although we all tend to go for the looks, or rather the physical appearance, a lasting impression will always be left by the personality. A girl that will make you feel at ease is the kind of person you should get.
Sexy curves, attractive coloured eyes and a sexy body might me all the attributes you might be looking for at the start, but it will always boil down to politeness and personality.
Wrap Up
With all these qualities, you will be able to choose the perfect girl for you. A big plus is that our girls are always flexible and can adapt to just about any situation.